NComputing WEB + Netsuport
Use in schools
Is it possible to have less wires? Can your computer be smaller? On top of that, can you also save money?
Our answer to that is: NComputing + NetSupport
A classroom with 20 work seats and an extra one for the teacher can be equiped for only 3,987,00kn + VAT per seat – this price includes installation
A demo classroom can be viewed on Institute Ruđer Bošković in Zagreb, with annoucement.
What's included
NetSupport SOFTWARE 1 teacher and 20 student devices – Advanced classroom management
L 300 Device – 2 years warranty
Monitor View Sonic VA2246M-LED – 2 years warranty
Windows 8 Professional
Antivirus protection
Server to connect workstations – 3 years warranty
Working with students has never been easier. Monitor students and assign them tasks from your computer through the NetSupport system!
In comparison to a brand computer, that kind of a workstation costs around 5.000 kn + VAT
In addition to savings when initially buying hardware, there are numerous more advantages to the NComputing system:
70% lower maintenance costs
ease of installation, implementation and management
"Green IT" – security and low energy consumption
reduce safety risks – ensure security for users and data

NetSupport SOFTWARE advanced classroom management includes the following:
You can all computers on/off, remotely log on/off all computers with one click.
Registration of students – Generate and store attendance lists and questionnaires.
Interactive curriculum / units – Organize activities and resources for the class, track progress in real time and share units with other teachers.
Teaching –  Show the teacher's screen to all group members or even a specific application. Show a clip of previous classes, sound included.
Monitor student screens – Monitor the entire classroom or specific sutdents. You can use highly detailed thumbnails of every computer and assume control through just one click.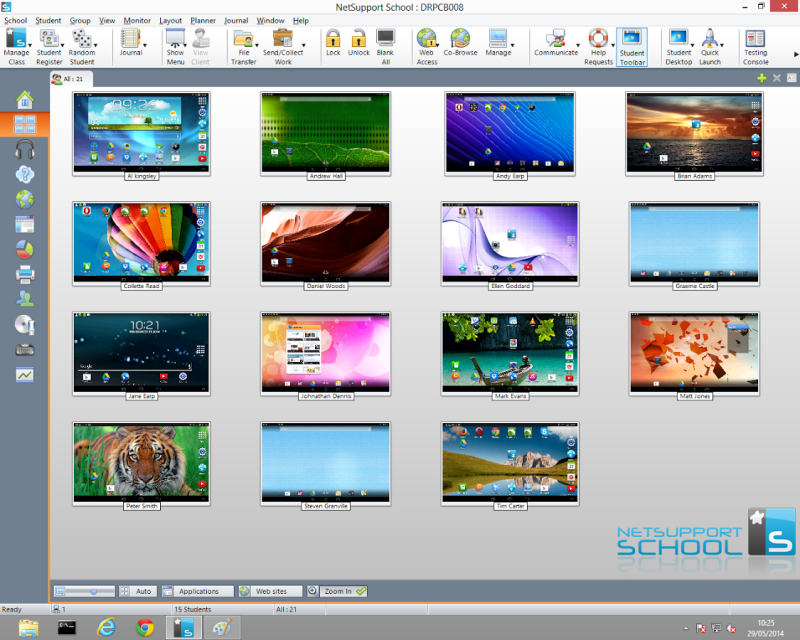 On-screen notes – Use many presentation and note-taking tools, to keep the students' focus.
Monitor and control applications – Monitor all applications used in the classroom, including background ones, remote opening and colsing application, take detailed records of all applications used during a class by specific students. Possibility of creating allowed and forbidden application lists.
Monitor and control Internet content  – This allows the same features as application control. You can also partially block websites, allowing access to only certain parts of a set URL. You can enable FTP blocking.
Feel free to contact us using the information below and our employees will gladly answer any questions you might have:
Phone: : +385 1 644 4444
E-mail: konzultant@spsistemi.hr
You can see more about the solution at : http://www.netsupportschool.com/