We tested the Sony PCS-XC1 videoconference system
Authors: Igor Balen i Matej Ponjan
As an authorized Sony partner, we used the opportunity to thoroughly test the new Sony video conferencing system – the Sony PCS-XC1. Both our clients and us are often in situations of meeting remotely. That's why we decided to test the system in real conditions.
One of the cornerstones of business success in today's environment are certainly high-quality partnerships. For this reason, business meetings are taking up an increasing part of our business hours, while at the same time, globalization is leading to a greater geographical distance between our partners and us. In addition, each company tries to be as efficient as possible, and to make your communication effective – both by content, time and cost – video communication shows up as one of the best solutions.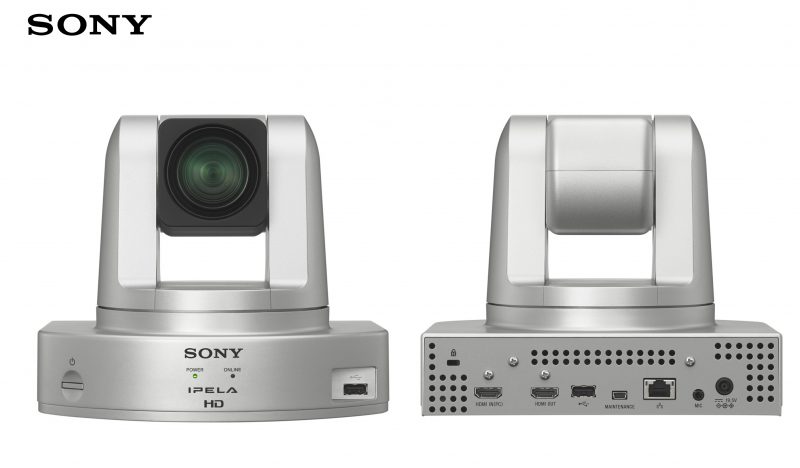 Sony PCS-XC1 video conferencing system is such a solution, intended for everyone who wants to take their business communication to the next level. It's a system that offers a conference mode of communication, and that is completely portable – you only need to have Internet access and video conferencing can be initiated in an instant.
The camera is a known Sony Exmor known that, with the installation of additional software delivers high definition resolution (1080p) with 60 FPS (frames per second), which makes motion and picture clearer. Otherwise, the standard image without upgrading is also more than sufficient – a 720p resolution at 60 FPS. The sensor stands out for its ability to retain extremely high-quality image display in poor light as well. To this can be credited to two Sony technologies: View-DR and XDNR.
View-DR solves problems in areas that have too much light – through an algorithm that displays an image that is actually composed of several images, taken at a shorter exposure. XDNR is an especially important technology in low light, which removes grit and artifacts that normally occur in such conditions. Together, these two technologies work to help that the picture is much closer to the natural eye view.
The camera provides a wide angle of 71 °, in order to more easily include all the participants in the room, but it also boasts the possibility of horizontal mechanical movement of more than sufficient 200 degrees. The system supports two communication protocols: ITU-T H.323 and IETF SIP. We would liek to point out two camera characteristics in particular: the frame change rate and autofocus, which in practice are perfect in crossing to the pre-recorded positions.
The use of camera is done very simply. To allow smooth operation, it is necessary to connect the power cord, connect to the Internet via a LAN cable connected to a router or network, connect an external microphone and connect the HDMI cable to the display, which will be responsible for the audio and video presentation.
When the device is first turned on, an installation is started that takes us through all the necessary configuration settings.
The camera can be controlled in two ways. The first way is via remote control, through which all system functions are available, from saving the position to recording on external memory or using saved contacts in the phone book, the presentation mode and streaming.
Another way to access it is through a web interface, which can be useful when you want to check the operation of the system or initiate communication with a remote location. Connecting to the Web interface is simple, just by typing in the assigned IP address in the web browser and verifying their identity user name and password, after which all available device options and configuration options will be available.
Among other functions of this system, we would like to mention the presentation function. The device has HDMI input, which allows you to connect the computer or any other device with a video output (camera, tablet, smartphone, etc..) and use it as a possible additional display.
To clarify on a concrete example, during your business meeting, it may be necessary to play a video, a PowerPoint presentation, or display a specific chart or image. You can display the requested material on a connected device, while selecting the presentation mode on the remote control, which will switch displays so that they see what you see on your device.
Another useful function arises from the possibility of storage to an external device via the USB port. If you want to record the whole conversation, you can do that simply by pressing the record symbol on the remote control, and you can pause or stop the recording whenever you want. If you need to take visual notes during the meeting, for your own needs or as a brief summary that you can later send to participants, there is an option of storing the current frame as a picture.
The option that extends the use of Sony's system is the IPELA Communication Mobile application. IPELA application is available for Android and iOS operating systems, and enables communication of Sony PCS-XC1 with smartphones and tablets. Establishing communication between devices is simple, just by calling the IP address of the device at the other end. The mobile application uses the front camera to concurrently record the person and display the other participants on the screen, but it is possible to switch to the rear camera that is usually much better quality. It should only be taken into account that the image quality depends largely on the quality of the Internet connection on both sides of communication.
In conclusion, the Sony PCS-XC1 offers proven leadeing Sony sensor in combination with other Sony solutions integrated into this system, which offers higher image quality than what we are used to. The usage and offered solutions for end users, from presentation mode, recording calls and images, menu simplicity, and applications for smart devices, it is clear that this device wants to make the whole process as simple and intuitive as possible. All these features packed into a highly mobile chassis weighing 1.8kg make it a very capable video conferencing system that we would definitely recommend.